Swing Time! Florida's Premier Swing Dance Events
---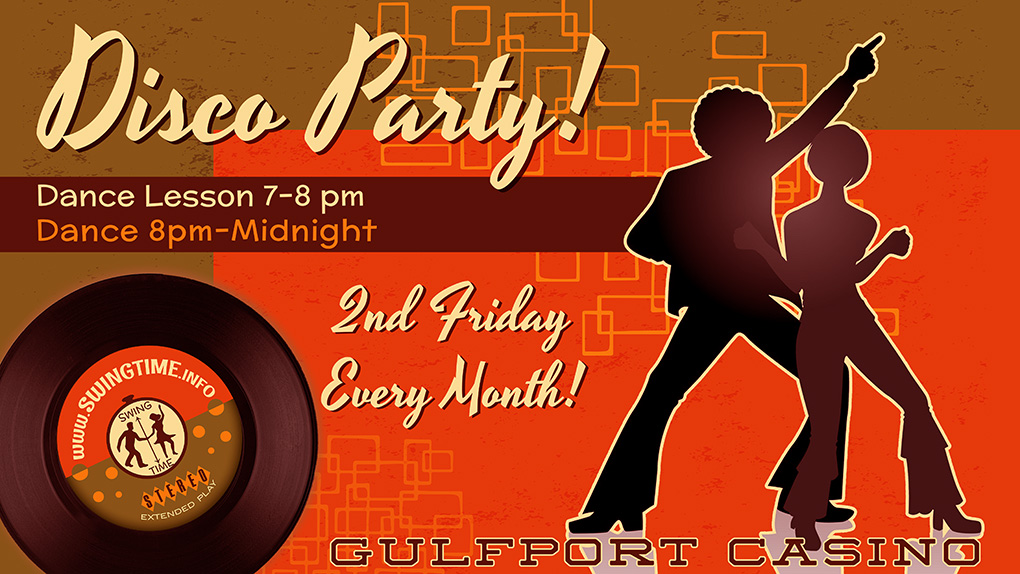 DISCO PARTY FRIDAY MAY 13TH
Friday, May 13th (2022) is Disco Party night at the Gulfport Casino! Dance 8pm-midnight to those funky disco grooves and beats. Arrive early for a Dance Lesson 7-8pm, where you can learn the Hustle and other Disco-era dances. Just $10 includes everything, and all ages are welcome. The Disco Party happens the second Friday of every month.
DANCE LESSON 7-8PM
MUSIC & DANCING 8PM-12

No Partners Needed Doors Open 6:45pm Cash Bar
Lesson Info — Swing Time welcomes special guest instructor, Forrest Outman Phoenix, who'll teach the 7pm lesson. You'll learn the Hustle partner dance, plus the Night Fever line dance straight out of the Saturday Night Fever movie! Forrest is one of Tampa Bay's most popular instructors. He's been dancing, teaching, and studying dance since he was in the single digits. He's a dance researcher and historian in his spare time, with an extensive knowledge of American dances from the last 100+ years. Disco-era dances are some of his favorites to share and teach!

The Gulfport Casino Ballroom is one of the world's top dance destinations, offering social dance excitement in a picturesque beachfront setting. It features a rich history, a grand dance floor, a full bar, a smoke-free atmosphere, and free parking. The Gulfport Casino Ballroom is located in the St. Petersburg, Florida area at 5500 Shore Blvd. S., Gulfport, FL 33707.
---
© All contents of this web site (www.SwingTime.info) except where otherwise stated are Copyright 2000-2022 Swing Time with all rights reserved
---